Old-Time Fiddle Styles
Bruce Molsky
| | | |
| --- | --- | --- |
| Intermediate / Advanced | | |
Learn a variety of old-time fiddle tunes in different regional styles from great players of the past. If you can play a few simple old-time fiddle tunes, or if you're an experienced player, this workshop series will be useful and fun! Bruce will take a variety of classic tunes apart to understand what makes them unique and compelling, with advice about bowing, double stops, ornamentation, and ideas for more listening and learning.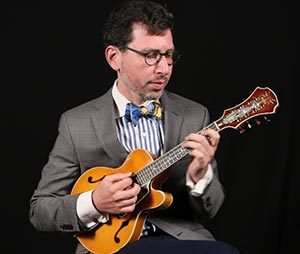 Swing Mandolin: Rhythm and Chord Solos
Aaron Weinstein
| | | |
| --- | --- | --- |
| Intermediate | | |
If you're playing mandolin in a swing or jazz band, most of the time you won't be playing solos, you'll be a part of the rhythm section, accompanying soloists or vocalists. In this eight-session workshop you'll learn to play rhythm mandolin (and how to create rhythmic chord solos) with one of the world's greatest swing mandolinists, Aaron Weinstein.