About This Course
Learn the tunes and techniques of some of the legends of old-time banjo, taught by one of the icons of contemporary old-time music.
Try a Sample Lesson
Wade Ward's solo version of the square dance tune "Mississippi Sawyer" is a little different than the way it would be played for a square dance, in that it drops a beat at the end of each part. It's played in double-D tuning: aDADE, where the fourth string is D, third string is A, second string is D, first string is E, and fifth string is A. Bruce shows you the tuning, gives you advice on getting in tune. Then he starts showing you the first part of "Mississippi Sawyer," which starts with a D chord shape at the fifth fret and a simple bum-ditty pattern. Bruce walks you through each phrase slowly, giving you lots of chances to play along with him as you learn the tune. You'll learn a basic version of the A part of "Mississippi Sawyer" in this video.
Meet the Instructor
Bruce Molsky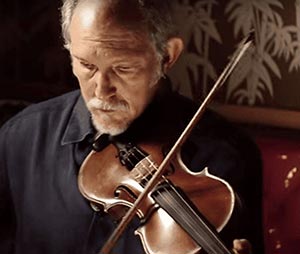 Bruce Molsky is "one of America's premier fiddling talents" (Mother Jones) and a twice-Grammy-nominated artist on fiddle, banjo, guitar, and song. For decades, he's been a globetrotting performer and educator, a recording artist with an expansive discography including seven solo albums, well over a dozen collaborations and two Grammy-nominations. Bruce is also the classic "musician's musician"—a man who's received high praise from diverse fans and collaborators like Linda Ronstadt, Mark Knopfler, Celtic giants Donal Lunny and Andy Irvine, jazzer Bill Frisell and dobro master Jerry Douglas. The first permanent visiting professor in Berklee College of Music's American Roots Program, Bruce is the go-to guy for the next generation of fiddlers. He can be heard these days on the road and on record with his trio Molsky's Mountain Drifters.
Peghead Play-Along Tracks
Peghead Nation is creating a
library of accompaniment videos (and downloadable MP3s)
for songs and tunes that are taught on the site, classics that you'll find at many jams and picking parties. As a subscriber, you have access to this library and can use the tracks to practice playing tunes and songs at a slow or medium tempo with guitar accompaniment. New songs will be added regularly.
Old-Time Banjo Source Material
Check out these songs featured in the Old-Time Banjo course.
The Old-Time Banjo Subscription Includes:
45 in-depth lessons in old-time banjo styles
44 complete tunes as played by old-time banjo legends like Wade Ward, Matokie Slaughter, Hobart Smith, Pete Steele, and Frank Jenkins
Detailed tablature for all lessons
Play-along tracks, with downloadable MP3s, so you can practice what you're learning
High-quality video with multiple camera angles so you can see closeups of both hands in action
$20/Month For One Course
Additional courses only $10/month each! • Save 20% with an annual subscription
and get your first month free or $20 off an annual subscription.
Old-Time Banjo Course Outline
WADE WARD
Introduction to Wade Ward
Bruce talks about how he was introduced to the music of the great old-time banjo player Wade Ward and gives some background on his life and music.
Mississippi Sawyer
Reuben
June Apple
Wade's Lost Indian
Married Man's Blues
Polly Put the Kettle On
John Lover Is Gone
Shady Grove
Sally Ann
Old Joe Clark
Cluck Old Hen
More Old-Time Banjo Tunes
Jack Wilson
Georgie
Chinquapin Pie
Five Miles from Town
Backstep Cindy
Glen Smith's "John Henry"
Walking in the Parlor
Chattanooga
Sugar Hill
Flying Indian
Cleveland's March to the White House
The Coo-Coo Bird
Twin Sisters
Pateroller Song
Tildy Moore
Tommy Jarrell's "Cripple Creek"
Old Dad
Shooting Creek
Wandering Boy
Sugar in the Gourd
Fiddle or a Dram
Rockingham Cindy
John Brown's Dream
We'll Have a Way Hoeing Corn
Knut Ramlet's Hambo
The Blackest Crow
Christmas Eve
Robert's Serenade
Red Rocking Chair
Christmas Holiday
Roustabout
Breaking Up Christmas
Sourwood Mountain