About This Workshop
Learn techniques to take a new tune or an old tune you love to the next step—with bowing ideas, chordal and rhythmic exploration, and soloing practice.
Meet the Instructor
Lauren Rioux and Brittany Haas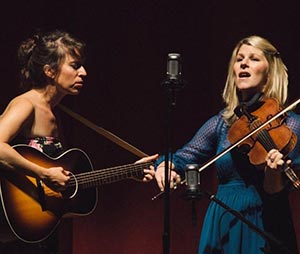 Lauren Rioux is perhaps most well-known for her online string education site JamwithLauren.com, which provides students with an innovative curriculum, gorgeous learning materials, and her inimitable teaching style. Brittany Haas is widely regarded as one of the most influential fiddlers of her generation. She has recorded and performed with Steve Martin, David Rawlings, Punch Brothers, and Béla Fleck; was a member of the house band for Live From Here; and was the Americana Music Association's 2020 Instrumentalist of the Year. Lauren and Brittany became close friends in 2005 at the Mark O'Connor Fiddle Camp, and both cut their stringband teeth playing second fiddle in Darol Anger's Republic of Strings. They have toured together as a duo, produced solo albums for each other, and continue to collaborate on various teaching projects.
Creative Jam Skills Source Material
Check out these songs featured in the Creative Jam Skills course.
The Creative Jam Skills Workshop Includes:
Six one-and-a-half hour live Zoom sessions, held every other Saturday, from 10 am 11:30 am Pacific Time starting September 3, 2022 and ending on Saturday, November 12, 2022.
A guided approach to taking tunes you love to the next step, with bowing ideas, chordal and rhythmic exploration, and soloing practice
High-quality video recordings of each session so you can review what you've learned and revisit them after the workshop has concluded
Notation for each session
Sign Up for Live Workshop
Workshop fee of $200, participate live or view recordings on your own schedule.
Learn new tunes as a vehicle for upping your game as a melody player, backup player, and improviser. You'll explore different avenues for expressing yourself as an instrumentalist and work on your skill set as a musical collaborator. This workshop series is designed for intermediate to advanced level players who want to work on their jamming and improvising skills. It will be taught primarily on fiddle but can be helpful for players on any instrument.
Creative Jam Skills Workshop
Welcome to Creative Jam Skills
Lauren and Brittany talk about what they will be doing in their Creative Jam Skills course.
Session 1: "Hosses in the Canebreak"
In the first session of Creative Jam Skills, Brittany and Lauren teach the old-time fiddle tune "Hosses in the Canebreak." They work through the melody, and then teach you chord progressions—not just what the chords are, but how the chords function and how to play them on your instrument. They also provide an arrangement for how to play great back up in a jam, and then go over variations of the melody and touch upon ideas for soloing.
Session 2: "Ookpik Waltz"
This session builds on the concepts from the first session, continuing in the key of G. The foundation tune for this session is "Ookpik Waltz" by Canadian fiddler Frankie Rodgers. There are lots of great versions of this tune with slightly different melodies and chord possibilities. Lauren and Brittany lead you through their favorite versions and help you work on finding chord voicings on your instrument and backup techniques for adding rhythm to the chords. They also talk about soloing on "Ookpik Waltz."

Session 3: "Mississippi Sawyer"
For the third class Lauren and Brittany move to the key of D and focus on improvising and creating variations over the melody. They use the popular fiddle tune "Mississippi Sawyer" as a starting point and continue to work on creative and inspiring back up.