About This Course
Learn to transfer what you know on the mandolin to its bigger cousin and how to exploit the octave mandolin's potential for more complex, guitar-oriented accompaniment styles. For intermediate mandolin, fiddle, or guitar players with a basic knowledge of their instrument.
Try a Sample Lesson
"Inverness" comes from fiddler/mandolinist John Mailander, who recorded it on his album Walking Distance. It's a beautiful, contemplative melody that alternates measures of 6/4 and 4/4. Joe walks you through the second part of "Inverness" in this video.
Meet the Instructor
Joe K. Walsh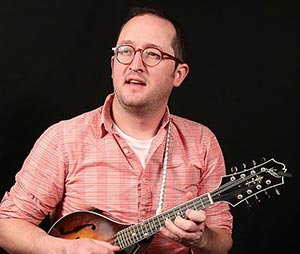 Hailed by Nashville's Music Row magazine for his "lickety-split mandolin work" and by Vintage Guitar magazine as "brilliant," Joe K. Walsh is one of the best mandolinists of his generation. Walsh is known for his exceptional tone and taste, and his collaborations with acoustic music luminaries, including legendary fiddler Darol Anger, flatpick guitar hero Scott Nygaard, folk legend Jonathan Edwards, and pop/grass darlings Joy Kills Sorrow, have taken him all over the musical and figurative map. An avid mandolin educator, Joe is a mandolin instructor at the Berklee College of Music and teaches regularly at music camps throughout North America and beyond.
Peghead Play-Along Tracks
Peghead Nation is creating a
library of accompaniment videos (and downloadable MP3s)
for songs and tunes that are taught on the site, classics that you'll find at many jams and picking parties. As a subscriber, you have access to this library and can use the tracks to practice playing tunes and songs at a slow or medium tempo with guitar accompaniment. New songs will be added regularly.
Octave Mandolin Source Material
Check out these songs featured in the Octave Mandolin course.
The Octave Mandolin Subscription Includes:
Instruction on adapting mandolin techniques, scales, arpeggios, and chords to the octave mandolin
Octave mandolin tunes as played by great octave mandolin players like Sarah Jarosz, Chris Thile, Sierra Hull, Tim O'Brien, Darol Anger, and more
Octave mandolin versions of bluegrass, trad folk, and jazz tunes
Instruction on guitar-based accompaniment styles, including the use of the capo
New lessons added every month
Notation/Tablature for all lessons
Play-along tracks so you can practice what you're learning
High-quality video with multiple camera angles so you can see closeups of both hands in action
$20/Month For One Course
Additional courses only $10/month each! • Save 20% with an annual subscription
and get your first month free or $20 off an annual subscription.
Octave Mandolin Course Outline
Introduction to the Octave Mandolin
Joe gives you some background on the octave mandolin, including some of the well-known octave mandolin players, and talks about what and how you will learn in this course.
Joe's Northfield Octave Mandolin - New Lesson
Joe talks about his Northfield archtop octave mandolin.
Sam Brown Hill
"Sam Brown Hill" comes from the great guitarist Duke Levine, who recorded it on the octave mandolin on his album The Fade Out. It's a simple melody with three parts, in the key of E, played out of D position with a capo at the second fret, but it's a good example of how octave mandolinists flesh out melodies with chords and double stops.
Inverness
"Inverness" comes from fiddler/mandolinist John Mailander, who recorded it on his album Walking Distance. It's a beautiful, contemplative melody that alternates measures of 6/4 and 4/4. It's in the key of F, so Joe plays it as if it's in D, but with the capo at the third fret. You'll learn the melody and also some of Joe's favorite octave mandolin chord voicings in the key of D.
Old Dangerfield
The Bill Monroe instrumental "Old Dangerfield" is popular in bluegrass circles everywhere. In this lesson you'll learn Sierra Hull's octave mandolin version. Sierra is a virtuoso mandolinist but she has relatively small hands, so she changes the melody of "Old Dangerfield" somewhat when she plays it on the octave mandolin to make it fit the larger instrument. This is very common for mandolinists when they transfer tunes they know on the mandolin to the octave mandolin, and Sierra's version of "Old Dangerfield" is a great lesson in doing this effectively.